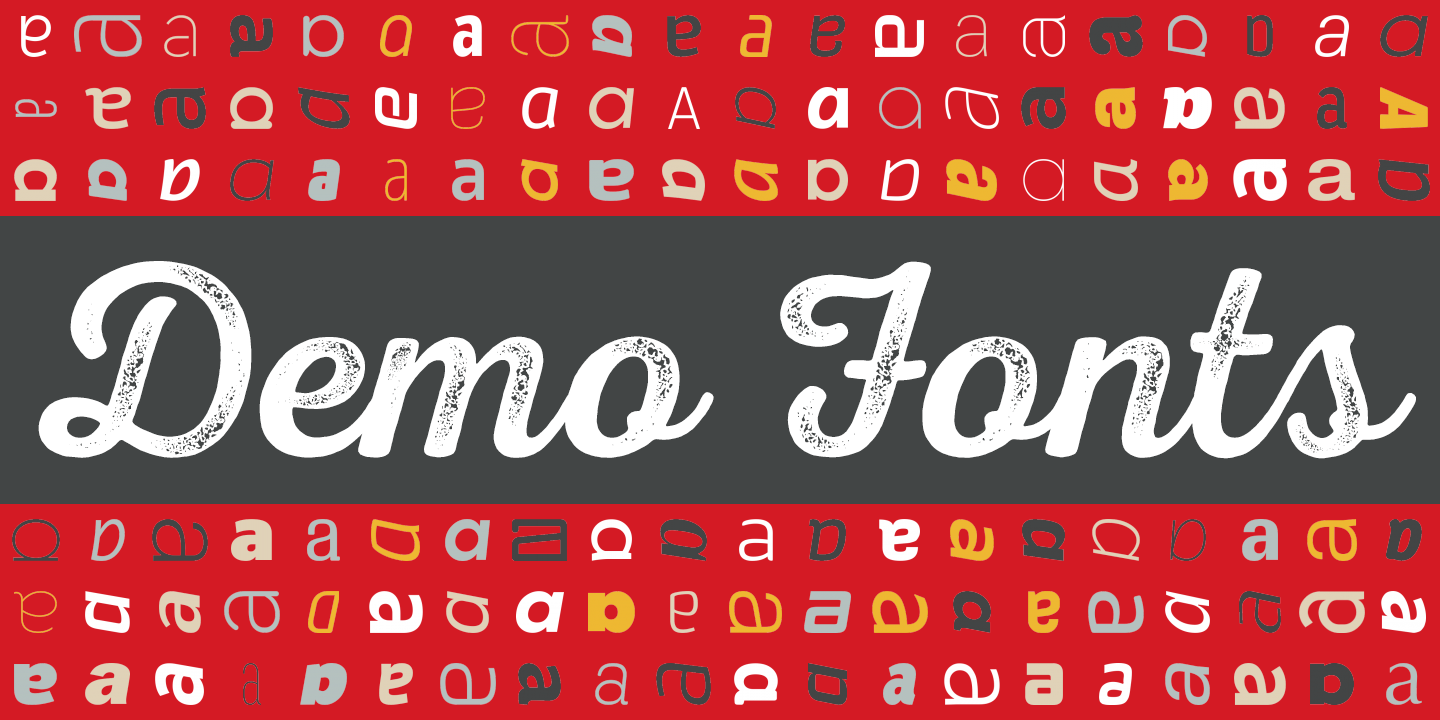 Introducing: Demo Fonts.
You've consistently told us that trying out fonts is absolutely essential for your job, and at the same time terribly cumbersome. Typically, you visit a font site, type text into a text box, screenshot the resulting font image and then copy and paste it into your artwork. Such a bother.
We labored with our foundry partners to come up with an amazing solution. Today, we are introducing a FREE new product called Demo Fonts. Demo Fonts are trial versions of your favorite typefaces that you download, install and use like any other font. There are no third-party apps to install, no background-running processes talking secretly to our servers. These are real, live font files that work in any of your apps.
Here's how it works: We take an original font, subset it down to a smaller character set, roughly basic-Latin, and then modify the name in your font menus. You then install that font the way you normally do. Open your design software and mock-up your artwork with them. After you get client approval, come back to Fontspring, purchase the full version, and you're done.
Get started today! Just create an account, find a participating font family and click the Download Demo Fonts button. You can also see a list of all fonts supporting demos at Fontspring.com/demo.
Frequently Asked Questions:
What am I actually allowed to use Demo Fonts for?
You can use Demo Fonts for anything, as long as usage remains a mock-up. This includes print, web, app, ebook, broadcast, whatever. As soon as the artwork moves from mock-up, to final art, you will need to purchase the appropriate license, regardless of whether it is for personal or commercial use.
Do you have Demo Fonts for every font?
Thousands of our fonts are available as Demo Fonts right now, but not our entire collection. However, new Demo Fonts are coming online all the time. If there is a Foundry you're really hoping to get on board, you should let them know how much you love their fonts and want to try them yourself!
How many Demo Fonts can I download?
You can download as many Demo Fonts as you like. Please use them and try them. We do not limit the number that you can download.
How long can I keep Demo Fonts installed?
You can keep Demo Fonts installed for as long as you need. We do not limit your time allotment. Keep them on hand to check in future projects without having to download them again.
I'm a student, can I use these?
Yes, as long as you use this within the bounds of a class project and not other personal or commercial work. When in doubt, send us an email!
Aren't you afraid of people stealing these?
While we are not afraid of "pirates", we have modified the Demo Fonts to make them less valuable to would-be thieves. For instance, the number 4 is missing from every Demo Font. This doesn't diminish its value to you as a designer, but does for someone wishing to steal it. People who think it is ok to steal fonts and misuse font licenses are not our customers.
Do I have to install anything for Demo Fonts to work?
No, you don't need to install any software. Demo Fonts do not rely on us stealthily syncing them to your computer, unlike other font services such as Fontstand, SkyFonts and Typekit, which all require background-running software. At Fontspring, our trial fonts are just plain-vanilla font files that you install yourself.