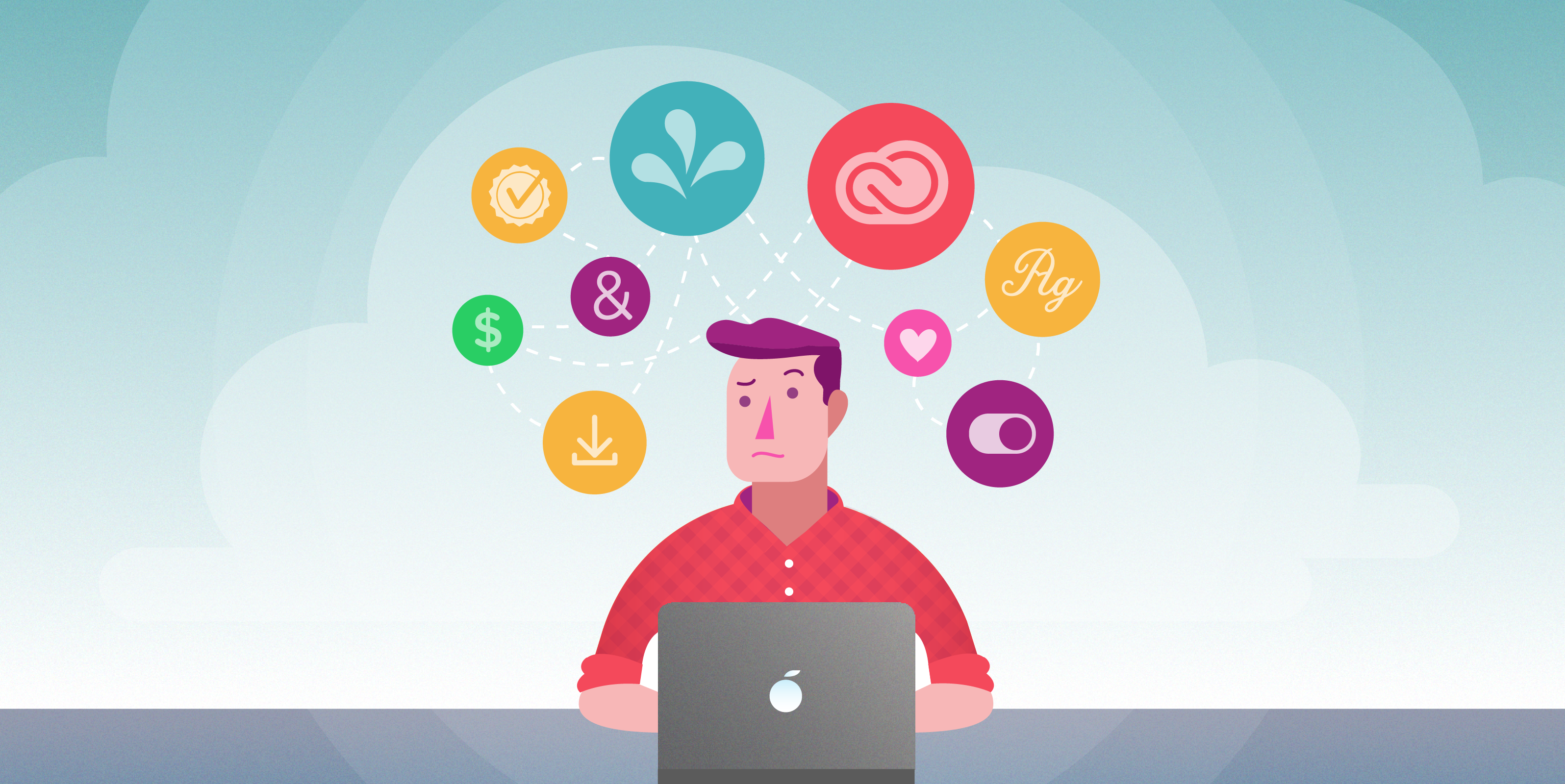 Adobe Fonts and Fontspring
Why Adobe's subscription-based fonts leave room for perpetual peace of mind
What was once "Typekit" is now Adobe Fonts – a library of 14,000+ fonts that are automatically available for all Creative Cloud subscribers with just the click of a button. This service comes as great news to anyone who already pays for Photoshop or Illustrator on a monthly basis. As you dive into your new vault of typefaces and swim around in the riches like Scrooge McDuck, we want to make sure you're aware of a few important details.
The benefits
There are obvious benefits. If you're already paying for Creative Cloud, you can try out a ton of new fonts without having to pay for each one individually. Adobe Fonts offers quite a few excellent typefaces from foundries like Font Bureau, Monotype, and Frere-Jones that are not currently available through Fontspring, as well as plenty that you'll find on our site. Take advantage of this opportunity to explore some new fonts. Adobe is a reputable company with a strong history of quality design, and they're no stranger to the world of type (many of Adobe's own font families like Acumin Pro and Myriad Pro are consistently at the top of our best-sellers list). Their licensing is fair, and if you're designing for print or on the web, you'll find that a lot of your bases are covered.
So what's the catch?
The luxurious pool you're swimming in is not your own. Think of these fonts as rentals. If a foundry decides to remove a font from Adobe Fonts, or if you decide to turn off your CC subscription, then you no longer have access to those fonts. That doesn't mean you need to delete designs you've already made using the fonts, but it does mean you can't make any new ones. If your brand relies on the use of a specific font, you should definitely consider a perpetual license in order to have complete peace of mind. Likewise, if you go a while without using Creative Cloud or the fonts offered in the subscription, you still pay the same monthly fee, which adds up over time. Yes, 14,000 fonts is a lot. Those fonts may or may not overlap with Fontspring's growing library of 69,000 fonts in 14,000 families (with more being added every day). If you're looking to dive a little deeper than desktop and web use, with more customization options and a wider variety of fonts to explore, it's time to venture beyond a swimming pool membership. The great "spring of fonts" awaits.
What can Fontspring offer that Adobe Fonts can't?
We're here to help you find fonts that are worth purchasing in the long-run. We highlight the best new fonts, best-sellers, and deepest discounts. We offer search tools like the Matcherator to help you find what you're looking for. We have a great customer support team ready to talk to you whenever you need help using your fonts or if you need customized options. Our web fonts are all self-hosted, so they don't depend solely on a third-party host or require tracking scripts, giving you more control. We also offer custom licensing, allowing you to embed fonts within apps, include them with design programs and product creation platforms, purchase extended rights for your entire organization, and more (none of which are allowed by Adobe Fonts). Most importantly, when you purchase a perpetual license through Fontspring, it's a one-time payment, and that's all. No hidden fees, no tracking, no subscriptions to manage, just one payment to make sure you're covered for good.
Why not both?
With those details in mind, we should note that you don't have to choose between purchasing font licenses individually or using a convenient subscription service. You can, in fact, have your cake and eat it too. I subscribe to Netflix, but I still purchase physical copies of my favorite movies (call me old fashioned). I subscribe to Spotify, but I continue to purchase my favorite albums. The two are not mutually exclusive. As a wise little girl on a taco commercial once said, "¿Por qué no los dos?" ("Why not both?"). Many Fontspring customers are already benefiting from Adobe Fonts, and that's great. If you fall in love with a typeface you discover through Adobe Fonts, try it out and see if it's worth adding to your personal library. If so, consider purchasing a perpetual license from Fontspring. Over time, you'll be able to expand your personal library and never have to worry about ownership. After all, here at Fontspring, we're all about keeping you worry-free.